Terex Cranes is a crane manufacturer of different crane models, like: all terrain cranes, rough terrain cranes, truck-mounted cranes, crawler cranes, tower cranes, telescopic truck cranes, lattice boom truck cranes, lattice boom crawler cranes, pick and carry cranes and pedestal cranes. Regardless of the lifting task, there is surely one of the many Terex cranes to get the lifting operation done in an efficient manner. All Terex cranes are specifically designed for a particular lifting operation, and come with a set of wire ropes, sheaves and a winder.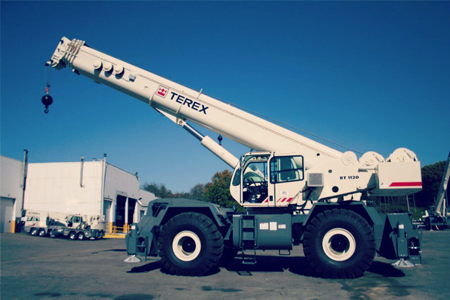 Terex Cranes manufactures six models of truck cranes. The most powerful one is the T500 invented in 1998 and first launched at Conexpo the year after. It has the maximum lifting capacity of 50 tons with a maximum length of 33.5 meters and a maximum tip height of 34.7 meters. This crane features a 4-section mechanically synchronized boom, and there are two jib configurations available. The auxiliary winches are hydraulic and have two-speed bent axis piston motors, while the equal speed power is enabled by planetary gears.
The comfort and the strain of the unit are important considerations, and the crane manufacturers constantly look for innovative solutions in this area. For greater comfort and reduced strain of the unit, many Terex cranes feature an air suspension, unlike the traditional steel springs that can be found in many crane models. This feature reduces the maintenance costs and improves the overall condition of the crane. According to some researches, the air suspension improves the load capacity. Terex Cranes was among the first crane manufacturers that included the air suspension system into its machines.
The product line of Terex Cranes includes all terrain cranes with lifting capacity that ranges from 33 up to 800 tons. The Terex all terrain cranes have the longest booms on the market. Terex Cranes also includes mobile hydraulic cranes in form of a crawler or truck-mounted lattice boom crane. The Terex boom crane is a cost-effective crane that offers a reliable performance under the most difficult conditions. The truck-mounted boom crane has the lifting capacity of up to 31,750 kg and the boom is 23.5 meters long.