Calculators optimized for office tasks are used for estimating percent values, calculating tax amounts, charges and other costs. Today, most of the the world-known manufacturers of calculators have included calculators for office use in their product portfolios and one of the most successful brands in the industry is Sharp.
Sharp Corporation is mostly known for designing and manufacturing home appliances, solar cells, mobile phones, LCD panels, televisions and other electronic goods. However, this Japanese multinational company designs and manufacturers some of the best and most reliable calculators for office use.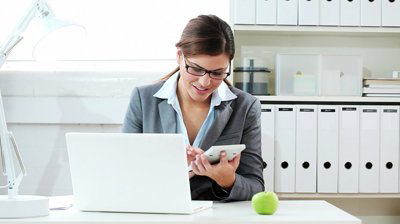 With the head office in Abeno-ku, Osaka, Japan, Sharp was founded in 1912 and brand's rich history began with the invention of a mechanical pen. Since, the company has developed into a world-known brand for LCD display modules, electronic devices, health & environment equipment, energy solutions, business solutions and digital information equipment. Today, Sharp is a synonym for quality, simplicity and functionality. This also applies to brand's line of calculators.
Since world's first transistor calculator, Sharp has developed a variety of calculators and was the first manufacturer to introduce the first pocket calculator which immediately became popular. In the early 1970s, Sharp introduced the first LCD calculator and since many innovations followed. From scientific to electronic calculators, office calculators are among the greatest successes of Sharp as a calculator brand.
The suggested or better said, Sharp's best calculator for office use you can find on the market is Sharp EL-480SR. This pocket-type calculator comes with cost, sell and margin functions to meet the professional needs of all. The Sharp EL-480SR is twin-powered by solar cell and one battery LR11300. When there is not enough light to run on solar power, the calculator automatically switches to battery power.
With these efficient office functions and its pretty large screen display, this hand-held calculator is widely preferred by many professionals and students as well. Even though users find this calculator not so easy to use, most of them consider it a very efficient and accurate calculator for office tasks. Sharp EL-480SR is a relatively inexpensive calculator, especially if you consider the reliability of the brand. For its fair price, it comes with all the necessary features for calculating cost, sell and margin functions.
This calculator has a large display with capacity of 10 digits with punctuation. Additionally, it has a handy mark-up function. In addition to cost-sell-margin recall, Sharp EL-480SR is able to calculate square root, percent values and sign changes. Sharp's calculator for office has a 3-key memory, including memory minus, memory plus and recall/clear memory keys. Simple, stylish and highly accurate, Sharp EL-480SR is the perfect calculator for office everyone should have.