Do you know that sitting by a fire can significantly lower your blood pressure, soothe anxiety and relieve stress? The well-spoken Cicero once said that there is no peace more delightful than one's own fireplace and he was absolutely right. We built fireplaces to make our houses homes, to warm our bodies as well as our hearts and souls, and to create feasts for the eyes and ears.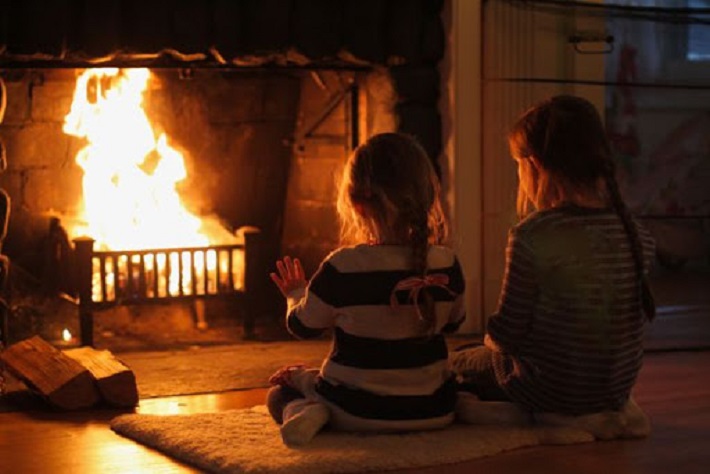 A fireplace is the most beautiful centrepiece one can have in the house, a timeless décor that enlivens the space and creates a welcoming environment.
If you're lucky enough to have a fireplace in your home, check out these simple suggestions to get inspired and upgrade your fireside in no time.
Tools That Double as Accessories
Accessories for fireplace units can improve the look of your hearth and contribute to the overall aesthetic of your fireside. No matter if you have a wood-burning, gas or an electric unit, fireplace accessories will beautify any hearth. Even if your chimney can't withstand the heat and the mantle just serves the purpose of gracing the walls, stylish accessories and decorations will create a cozy ambience.
The best way to achieve this is to use tools that double as accessories. You can use them to add a touch of warmth to minimalistic and modern designs or to make a rustic fireplace look more contemporary.
There's something magical about black and gold combinations that radiates sophistication and elegance. A sumptuous fire toolset with a tall stand embellished with golden handles will enhance the already gorgeous effect of the flames. The flickering light of the sparks will reflect on the golden details thus creating an enchanting aesthetic. Make sure you choose a toolset made from cast iron that can withstand extremely high temperatures and it's safe to use on open fires.
If an industrial chic or contemporary design is your cup of tea, opt for a sleek tool set made from stainless steel and timber. This could be the perfect accent piece that joins vintage and modern together.
Use timber logs in your hearth even if you don't use the fireplace. A bundle of white birch logs will look adorable and help create a homey atmosphere. If you have a gas fire unit, you can buy decorative coal and twigs to enhance the log burning effect.
Log buckets and racks are both practical and eye-catching accessories for your fireplace. You can choose a two-tire wood rack with fire tools to maximize the space and store logs with style.
Improve Your Fireplace Efficacy and Safety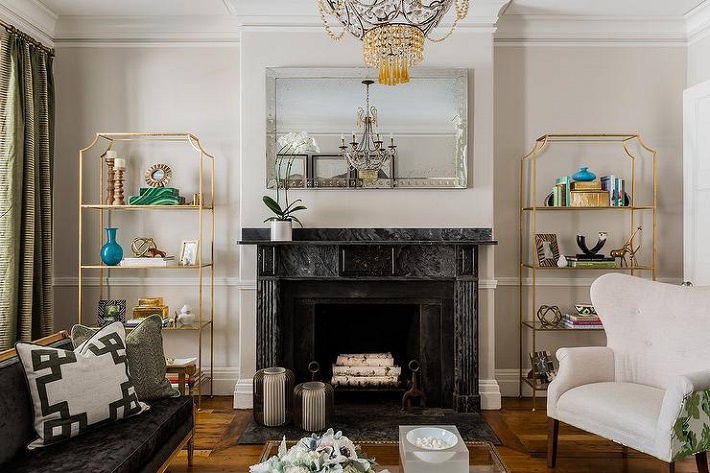 Fire place accessories won't only upgrade the looks of your fireside, but they'll also improve your hearth's efficacy and safety.
Fireplace grates will increase the airflow around the fire allowing it to burn more evenly and efficiently. A beautifully detailed gothic crate can be a perfect finishing touch for your chimney, plus it will add a little bit of drama and fierceness. Or, you can opt for a cast iron fire grate with a black finish and traditional lines that can adorn both contemporary and traditional homes.
If you're tired of getting lightheaded every time you start the fireplace, get a fire bellow that will do the work for you. A leather fire bellow with a sleek dark brown finish also makes an attractive accessory for your fireside.
In the past, fires screens served the purpose of safety and they were usually made from wood. Nowadays, fire screens will not only protect you from the open flames and embers, but they will also beautify your fireside. For instance, a 3 fold fire screen made from steel with nicely curved details will enchant the light of the flames while securing the fire pit.
Decorate the Mantel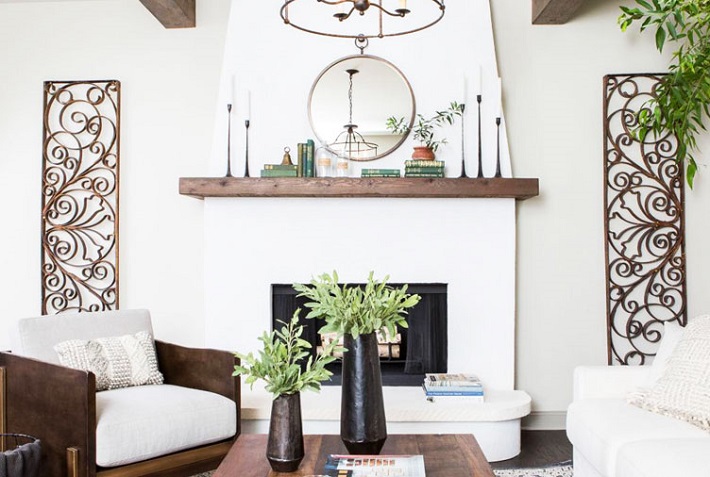 You can turn the simple mantel shelf into a fine piece of craftsmanship in less than an hour and you don't have to be a wizard of arts and crafts to achieve this. Buy fireplace accessories which are beautifully carved to accentuate the fireside even more. Use gorgeously detailed corbels to decorate the mantel and make the fireplace the focal point of your room even when you're not using it.
If you're bored with the look of your old fireplace, you can repaint the mantel in black to create contrast or refresh it with bright colours that will instantly boost your mood.
The mantel is the perfect place where you can show off your accomplishments, carefully arrange your most valued set of books or display your most beloved family photos. You can also use decorate it with indoor plants; just remember to protect them when you're using the fireplace.
Additional Tips
A mirror will be a wonderful addition to your fireplace because it will reflect the light and make the room look more open and spacious. Or you can use the space above your fireplace to hang an exquisite piece of art that will attract all the attention.
The fireside is probably the most comfortable spot in your house. If you don't have enough space for everyone, use fluffy pillows and cushions to provide seats for all your family members and friends to enjoy the crackling sounds of the fire and the pleasant flickering sparks. You can use a log basket or a sling to store cosy blankets to ensure everyone is nice and toasty on those chilly winter nights.
If you want to make this space even more comfortable, layer soft faux fur or woven rugs in front of the fire pit. This will add a pop of colour and texture and make the whole room look more welcoming.
Final Thoughts
Accessories for fireplace are a very convenient solution if you want to upgrade your firebox, but you run on a tight budget. You don't have to rebuild or change everything to give it a complete makeover. Choose your accessories wisely and opt for cleverly designed tools that double as decorations. This way, you won't have to buy expensive ornaments to adorn the place.