While Isuzu's DMax rarely ever relishes in the fanfare that some Aussie utes do, it's still one of the hardiest and most reliable trucks sold in Oz. Their flagship 3.0L J-Series powerplants are among the most widely used commercial engines ever manufactured, and a performance exhaust upgrade one of the most attractive ways to coax more power out of these legendary engines.
Exhaust upgrades are undoubtedly one of the most straightforward improvements you can make to any car or truck; and while Isuzu has always been forthcoming about installing restrictive exhausts on their J-Series engines for the benefit of emissions standards, it's no secret that these powerplants are capable of producing significantly more power with minimal effort. A lower restriction exhaust will make a noticeable J-Series difference when you're climbing hills or pulling trailers, and it's a perfectly cost-conscious upgrade for possibly one of the most affordable utes on the market.
Putting Australian Expertise to Work with a 3″ DMax Exhaust
While most DMax owners are surprised to hear that their 140kW J-Series is capable of grinding out as much as 370kW on stock internals, they're usually even more shocked to discover that low restriction 3″ DMax exhausts can add 10 – 15kW with no other mods whatsoever. Power increases don't come easily in Australia's hot, low density air pressure; and while low restriction exhausts alone don't have any impact on what's being drawn into an engine, they do allow for increased scavenging, which is the equivalent to a breath of fresh air to the J-Series DMax.
Exhaust scavenging allows engines to get rid of spent gases more efficiently, clearing the way for more fresh air to get packed into the engine quicker. Premium engineered, 3" aftermarket Isuzu DMax exhaust upgrades are able to expedite the scavenging of unwanted exhaust gases by:
Drawing as much spent gas away from the cylinders on the exhaust stroke as possible;
Improving exhaust flow velocity to scavenge even more exhaust through the system; and,
Removing any inline impediments that could result in restrictive backpressure.
Make no mistake: it takes a properly designed and constructed exhaust system to handle all of these tasks simultaneously, which is why a 100% Aussie-made Isuzu DMax performance exhaust system is the one you want. Aussie exhaust builders understand better than anyone just how important it is in hot climates to remove exhaust gases from the system as quickly as possible, and their systems are designed specifically to keep everything moving.
There's an Upgraded Exhaust System for Every DMax Model
You can buy performance Isuzu DMax exhaust upgrades for every regular production 3.0L J-Series engine configuration that's been sold in Australia, including:
2008 – 2012 Direct injection 3.0L turbo diesel with long wheelbase cab chassis;
2010 – 2012 Direct injection 3.0L turbo diesel with short wheelbase styleside chassis;
2012 – 2017 CRD (Common Rail Diesel) 3.0L turbo diesel without diesel particulate filter (DPF);
2017 – 2021 CRD 3.0L turbo diesel; and,
2021 – Present CRD 3.0L turbo diesel.
Each of these Isuzu DMax exhaust system upgrades is body-style specific, and boasts fully TIG welded and mandrel bent tubing. Precision welding and turbulence-free nominal diameters are crucial for ensuring that there's no loss of exhaust velocity anywhere within the system, and they can be ordered in a variety of optional arrangements that include:
A choice of aluminised or stainless steel construction;
Turbo-, or DPF-back configurations; and,
With or without a high-flow diesel catalytic converter.
These high-performance Isuzu DMax exhaust upgrade packages even make full use of all of the factory exhaust mounting points, so there's no additional cutting or welding necessary to perform a complete install.
Exhausts that Know to Beat the Heat While Turning Up the Performance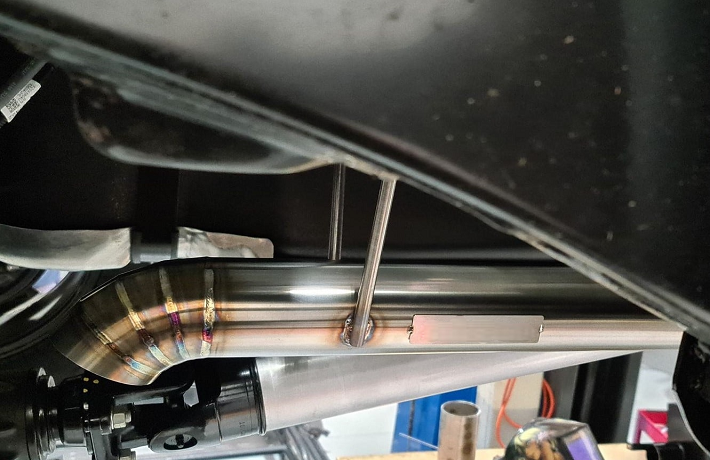 While there are hardly enough words that can be said about the importance of efficient scavenging to get the most out of an upgraded DMax exhaust system, there's another function that aftermarket exhausts are better at than their OE counterparts: heat removal. Retained heat is crucial for scavenging, but heat radiated from the exhaust system not only raises air intake temperatures, it also risks damaging the DMax's EGR (exhaust gas recirculation) valve and effectively bottoming out performance entirely.
Although heat's an unavoidable by-product of internal combustion, it's also an unapologetic power-robber if allowed to leave the system. That's why all the tubing in a proper DMax exhausts upgrade is heat treated in order to encourage the following:
A decrease in destructive heat moving around in the engine bay;
Improved resistance to tube fatigue or failure due to heat cycling; and,
Increased corrosion resistance from exhaust gases and environmental exposure.
Heat resistant coatings help to improve the heat transfer properties of the DMax exhaust by locking heat inside the exhaust system; and the result is better exhaust scavenging and evacuation, which in turn is going to lead to:
A significant improvement in acceleration and high RPM power;
A wider torque range that makes passing, merging, and pulling easier; and,
A possible increase in fuel economy due to increased throttle responsiveness.
The Final Word
At the end of the day, the DMax's turbo-charged J-Series is capable of producing sizeable increases in power with only simple upgrades. Anything that can help the turbo spool earlier and draw in more fresh air is going to make an instant difference; but in order for the process to be efficient, it also needs to be able to evacuate spent exhaust gases quicker.
Aussie-engineered, a low restriction 3″ DMax exhaust has all the attributes needed to let J-Series plants show what it's capable of. You'll see an immediate improvement in your power and economy, making an upgraded system one of the best investments you could ever make for these humble, but hardy utes.