Summer is in full swing! And this means making delicious BBQs under the beautiful and serene sky, going on long-awaited beach vacations, having much-anticipated gatherings in the open air, and many other plans and activities that come with the season.
With summer days being long and scorchingly hot, your patio and backyard become your ultimate cooling escape; they become the best places to relax for you, your family, and your friends. And for many that have an alfresco kitchen – they make the best places to cook and share your backyard culinary endeavours with the people you love the most.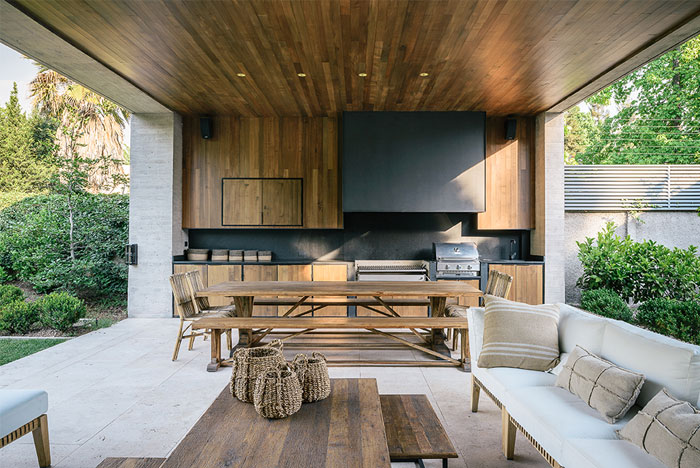 Since the weather is only getting warmer and warmer, the best place for cooking is outside because doing so inside the house turns into a sweaty impossible mission as soon as the kitchen becomes hot. On the other hand, investing in a functional alfresco outdoor kitchen allows you to enjoy the fresh air while preparing some of your favourite recipes. Here are some appliances that can make cooking and entertaining outside that much better.
The Appliances for the Perfect BBQ Party
Nothing defines summer more than the barbeque meat aroma that spreads in the air and makes everyone drool just thinking about the juiciness and the tenderness that awaits. It is the best way to make everyone taste a little bit of heaven each time they take a bite.

BBQs, grills, and smokers are essential cooking devices for creating enjoyable mouthwatering meals. Grills allow you to grill vegetables and slices of meat fast over high temperatures. On the other hand, barbecuing and smoking add more flavour once the meat is cooked longer at a low temperature or smoke. However, if your existing grill or smoker is corroded, unstable, or falling apart, then you need a new one.
Shopping for a BBQ Grill
It is very crucial to get the best quality BBQ that fits your alfresco outdoor kitchen design and space. There are many built-in barbeques, freestanding and portable barbeques, electric, gas, and others that are perfect for your existing arrangement. Also, if you like having your meat cooked in a more traditional, char-grilled way, barbeque stips and rotisseries are the best way to amaze everyone.

Even though the pandemic distanced everyone, there are still ways to have fun and safe gatherings in your outdoor alfresco kitchen. You can enjoy with some good ol' grilled burgers or tasty chicken sandwiches. If you have a few close friends and a small family, then a typical four-burner grill might be a good option, but if you are a social butterfly and have a big family, you may want a six-burner grill that allows you to prepare many slices of meat in just a few minutes.
Picking a Smoker
Smokers give the ultimate flavour explosion for any smoked meat lover. There are different types of smokers, such as offset, cabinet, egg, and drum. They are fueled by gas, pellet, electric and solid fuel, giving you many options if you decide to upgrade.
The Right Tools Make Everything So Much Better
Finally, if everything seems fine, you can elevate every meal prepared on the barbeque by just adding some BBQ tools into your collection, like meat shredders and BBQ injectors. Meat shredders can help you grab and serve the meat even when it is too hot or can help you shred your barbeque meat without burning your hands. Furthermore, the BBQ injector helps marinate the whole poultry or meat from the inside, leaving it tender and juicy once you cut it after being cooked.
Oven Pizza: Wow Everyone with Your Artisan Backyard-Made Pizza
Ah, pizza! Who doesn't love an artisan pizza? The whole process is so entertaining that you can amuse everyone by making fresh pizza from scratch in your very own backyard. You can have your closest ones tell you what kind of pizza will satisfy their tasting buds and start making it in front of them. A delicious wood oven pizza will leave everyone coming back for another slice.

However, the fun doesn't end there since you can have freshly baked bread or roast some meat inside the oven. Of course, there are also gas pizza ovens apart from the wood-fired ones if you want something that's less of a hassle to start.
Get an Outdoor Refrigerator to Keep Drinks Cool
An outdoor fridge is a must during the warmer months. It keeps your beverages cold and stops you from going back and forth. You can get a beverage fridge with single or double doors. It all depends if the size fits in your alfresco kitchen and the number of people you always have around.
An Outdoor TV Is Perfect for Entertainment
After all the delicious meals are washed down with some cold refreshing drinks, you want nothing more than to relax and sit back while watching a football match or maybe have a movie night, right? Well, if there is no TV in your alfresco kitchen or patio, it is time to upgrade and get one as soon as possible.

This change immediately transforms your backyard into your very own cinema. Also, there is always that one guy acting as a couch while watching the matches and thinking of different counter-strikes for his players.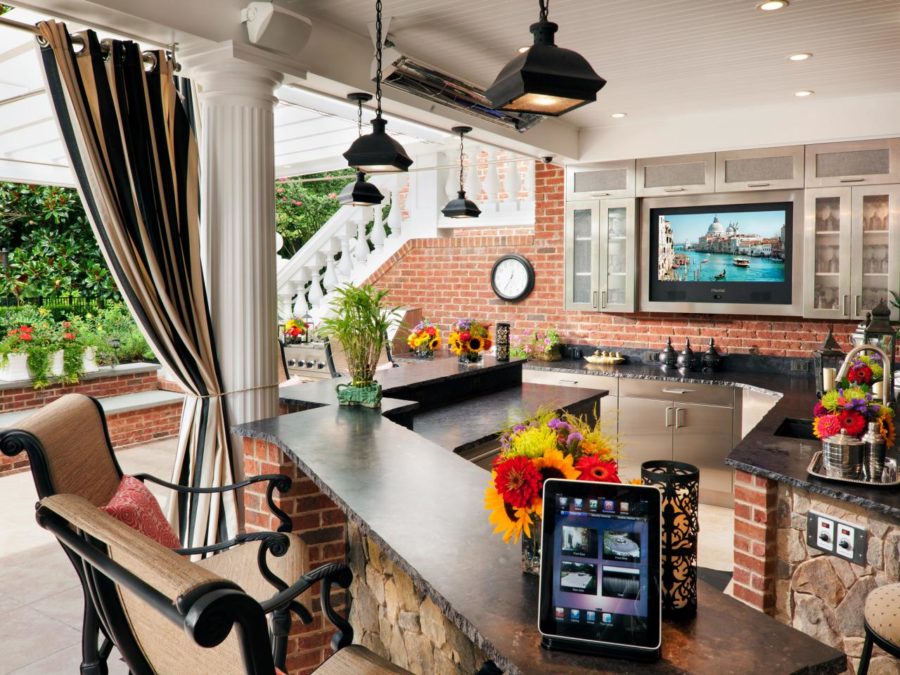 Also, you can watch some instructional videos while preparing your recipes or you can turn on some videos for the little ones to enjoy while you're making them breakfast.

To sum up, you can always upgrade your outdoor living space and make it more entertaining than ever. However, by taking care of the big things first, the smaller changes will be easier than ever. Remember to take a deep breath and dive into the best summer experience of your life.