Whether you've introduced lube to your intimate life recently, or you have been using it for some time now and are looking for tips on how to get more enjoyment out of it, here are some suggestions that may help you maximise your pleasure under the sheets.
Your body's natural wetness usually increases due to heightening sexual excitement, but sometimes, for many different reasons, you may need a little extra help to achieve the needed lubrication that will make sex more pleasurable. Natural wetness can decrease due to stress, medication, health and hormonal changes and many other reasons.
Using sex lubes is an effective solution for this, but apart from it they can be used as stimulants as well. Lubes can enhance sexual activity and make sexual acts, like sex, masturbation, or sex toy play, more pleasurable in many ways. Personal lubricants work in a way that reduces friction between your skin and the person, object or body part that you're using, eliminating pain, chafing and uncomfortable rubbing.
Today, there are so many forms of lubricants widely available in pharmacies, health stores, supermarkets and more, so it can be difficult to choose which one is right for you. The following are the main types of lubes and the variety of bases they come in.
Water-based
Water-based lubes are the safest type of sex lubes, to begin with. They're lighter than other lubes and smoother to the touch, too, perfect for people with sensitive skin or vaginal irritation and can be used for all of your sexual needs, with condoms, both latex and non-latex, and with sex toys. Another advantage of this type of lubes is that they're easy to clean and won't stain your sheets or clothes. But keep in mind that they're water soluble, and not the best choice for water-play or shower sex as they will wash away quickly.
Silicone-based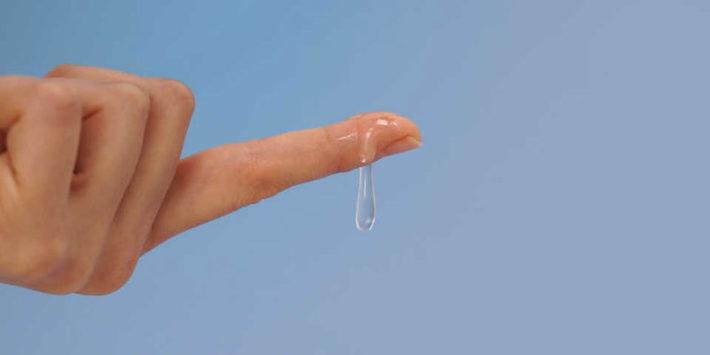 Silicone-based lubes are significantly thicker than water-based lubes, long lasting and require reapplication less often. Highly recommendable for people with very sensitive skin, since silicone is hypoallergenic and most people won't experience a reaction. Silicone-based lubes don't wash away easily and are great choice for shower sex, unlike the water-based ones. As they're more tedious to wash off, you'll need soap and water to clean up after use.
They're safe to use with condoms, but try not to use them with silicone-based sex toys as they can break down the rubber over time and your toys will become less sanitary because it creates abrasions in the silicone and bacteria can grow. To ensure safety when playing with toys, it's better to use water-based lubricants.
Oil-based
Oil-based lubes are known for their long-lasting properties and are ideal for sensual massages and water play, but are not recommendable for use with latex condoms as they can dissolve the latex and cause the condom to break.
The same goes for latex diaphragms and latex toys, and it's better to keep them away from oil-based lubes. Even non-latex condoms are sensitive to oil-based lubricants, and that's why is always a good idea to check the package before use. Another downside is that oil-based lubes can be more difficult to clean off your sheets and your body, so you need to be more careful when using them.
Hybrid
Hybrid lubricants are often a combination of both water-based and silicone-based lubes. You can find many different forms out there, suitable to your needs and preferences.
Purposes of Using Lubes
Even if your sex life is in a great shape, a little lube can make it more enjoyable. A personal lubricant can be used out of necessity or through preference, and here are some of the benefits it offers.
Relieving Dryness
Dryness can make sex feel less great, and according to some psychological studies, it can have a negative effect on your partner's libido. To help build sexual tension, you can always add additional lube and make the entire experience feel more comfortable and pleasurable. A sex lube will allow both you and your partner to enjoy the encounter and focus on each other.
Exploring Each Other
Adding lube prevents sex from hurting, and helps you and your partner discover new sensations by stimulating your erogenous zones. An intimate lube can help heighten sensitivity and keep the steady rhythm leading to orgasm between both of you.
Extending the Pleasure
Feel like you want to prolong the time between you and your partner until you both reach the ultimate sensation? A personal lubricant can provide you a naturally smooth experience that can help you master delayed gratification easily.
Increasing Creativity
If you're looking for new ways to get yourself or your partner in the mood, erotic massages are always a great way to start. You can choose from a variety of smooth massage gels or warming lubricants, or incorporate sex toys to your lovemaking experience. Lube will make the act more comfortable and enjoyable for both of you.
Warming and Cooling Lubes
Warming lubes are the best solution if you're searching for a more intense sexual experience as they warm up the skin immediately and produce a gentle warming effect and an intense tingling. Cooling lubes, on the other hand, add a touch of freshness and produce a nice sensation of tingling as well. Both types can be used with water-based condoms.
How to Use Lubes Right?
The truth is, there is no "right" way when it comes to the use of lubes. You can apply as much as you want, wherever you need. If you're trying a new lube, or if it's the first time using one, start off with a small amount and apply it gently to desired areas with your fingertips.
Most water-based lubes are suitable for oral sex as well and are safe to consume, as long as it's not in large quantities. There are so many flavoured, sugar-free, glycerin and paraben-free lubes out there – you can simply explore and find which ones you like the most.
And don't forget to always check the packaging and see the expiration date and the recommended storage solution. It's advisable to keep your lube out of direct heat or sunlight and in a cool, dry place, out of the reach of pets and kids.