There's no doubt that living in an urban area is a thrilling experience for a young person. The places and the things he/she can see and do are countless. Tall buildings, jaw-dropping landscapes, and great nightlife are some of the main things people can explore and experience when living in such places. However, living in buildings, smaller ones, in particular, limits the space when it comes to adding the much-needed life in an apartment in the form of plants. Fortunately, this can be considered a thing of the past, thanks to the newest invention in the horticulture planters' world – self-watering pots.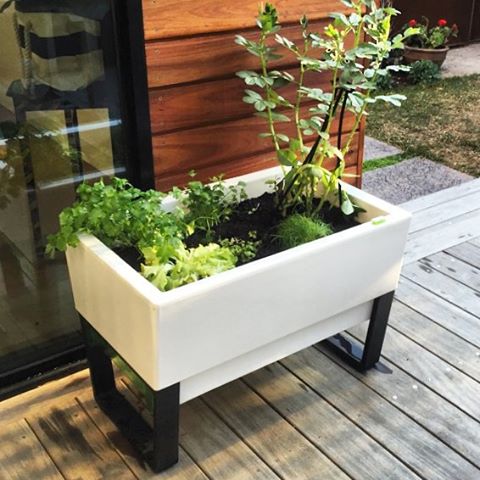 Nowadays, even the laziest of homeowners have the chance to add life in their home with the help of these planters. The urban version of the self-watering pots is extremely appealing, sleek, elegant, modern, small but spacey enough to allow the cultivation of any type of plant or flower. The modern planter box versions can give your plants a chance to thrive properly while enabling you to forget about frequent watering.
This is possible with the help of their integrated self-watering system. The reservoir of this modern planter box needs to be filled with water, so the planted flowers/plants can take the needed amount of water whenever they need it. That way the soil won't lose any of its nutrients which can lead to healthy, thriving and good looking plants. Additionally, planters of this kind have a water level indicator which means that the user can see if there is a water deficit in the reservoir. Except for this way of watering, the plants in modern self-watering planters can be watered by hand through the soil.
In addition, these modern versions of self-watering planters are usually made of injection-moulded HDE which is corrosion and UV resistant. To put it simply, the urban self-watering planters are sturdy, BPA-free, recyclable and ideal for a range of plants, even for fruit and veggies. At the bottom of these planters, there is a clip-on drip tray for the prevention of unwanted spills. Some of these models have connector hoses which allow planters of the same kind to be plugged into each other for easier integrated watering.
Last but not least, the raised design of the urban self-watering boxes allows the plants/flowers to be pruned, picked or watered without the user having to bend over. Thanks to their modular design, these planters allow being laced both indoors and outdoors which means that are easily portable as well.