Komatsu offers three models of log loaders equipped with Tier 3 engines and wide undercarriages. Each log loader model comes with swing system, undercarriage elements and upper frame. Fully enclosed cabins provide increased protection for the operator. All Komatsu log loaders can be customized with different tracks and various front end attachments. Available models are:
PC200LL-8: 140 horsepower, 10-12 meters reach, operating weight of 30 000kg
PC220LL-8: 170 horsepower, 12-15 meters reach, operating weight of 36 000kg
PC300LL-8: 250 horsepower, 12-15 meters reach, operating weight of 45 000kg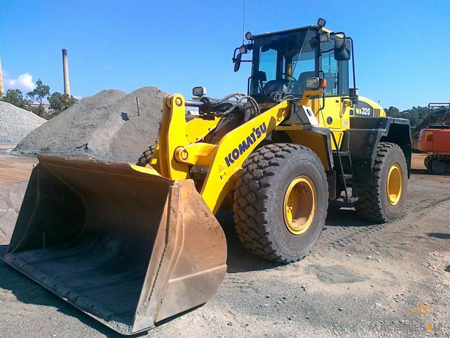 See all the Komatsu models selling on Machines4u.com.au
Liebherr
Liebherr offers the A-942C log loader. It is a rubber tire log loader model with operating weight of 27,000 kg, and can reach the speed up to 20km/h. The Liebherr log loaders are effective and high quality machines for picking and loading logs. The A-942C log loader comes with a long reach boom stick which allows the operator to work with the machine from roads and in narrow spaces. Increased comfort for the operator is provided by the ergonomic and air suspension seat. The engine features low fuel consumption and low noise level. The specific configuration of the hydraulic system and engine make the A-942C log loader easy to service and maintenance.
Link-Belt
The new Link-Belt log loaders, 290 X2 Series, equipped with improved hydraulic pump flow are capable to handle different harvesting and log loading jobs. The X2 log loaders are designed with Live-Heel and Butt-N-Top attachments for completing various log loading jobs. All log loaders come with remote lighting, heavy duty guarding, air suspension seat, adjustable doors, track guards, factory designed auxiliary hydraulics, etc.
Sennebogen
The transportation and handling of wood logs will be easier with the new 830 M log loader from Sennebogen. This is a new model in the D-Series range. It has excellent lifting and pulling capacities, provides good acceleration and has easy access to a cabin. The Sennebogen 830 M log loaders are equipped with powerful Tier 3 engines with 205 horsepower.
Tanguay
Tanguay's WL 350 log loader is manufactured in North America and is equipped with powerful Cummins 220 horsepower engines and has the operating weight of 45 000kg. Thanks to its robust and large enough carrier base, a 360 degrees lifting capacity is possible. The log loaders from Tanguay also include electronically controlled hydraulic cabin raiser, ergonomic seat and cabin for increased comfort.
Volvo
From its wide range of construction machines, Volvo offers the FC2924C log loader. It comes with a powerful V-ACT engine for increased capacity and reach. The key features of the Volvo's FC2924C log loaders are: a 170 horsepower Tier 3 V-ACT engine that guarantees high performance, durability and lower fuel consumption; comfortable and ergonomic cabin for the operator; heavy duty boom stick; strong undercarriage for tough forestry operations; and an efficient hydraulic system that allows various forestry attachments to be used.
Read the previous article "The Suggested Machine Brand For Log Loader Part 1"