Given the great part of our life we spend sleeping, it's important to make it as pleasurable and comfortable as it can be. Getting a good night's sleep that will leave you refreshed and full of energy in the morning is closely dependant on your choice of bedsheets. When you decide to buy new sheets you may feel overwhelmed by the diversity of fabrics, patterns, weaves, and other important features.
Understanding some basics about the fabric is crucial as sheets that are made from quality materials are made to last longer while maintaining their colour and feel. Today, we'll help you learn how to choose the right bedsheets to create a bedroom you'd love to fall asleep in.
Decide on The Materials
Before buying a luxury bed sheet set and updating the look of your bedroom, it's important to become familiar with the different types of materials so you can pick the best one for your needs and preferences. When choosing the material of your sheet set you should pay attention to two important factors: fibre content and construction.
Fibre Content 
Fibre comes from a natural source such as cotton or it can be manmade synthetic such as polyester. Different sources give different feels and strengths to the fabric, for this reason, there are often blends of two or more fibres that aim to maximize the strength and quality of the fabric.
Cotton
This is a pure, natural material that makes the fabric light and breathable. It helps absorb the heat from your body and regulate your body temperature throughout the night. Since this material is naturally hypoallergenic, you can be sure that it will not cause any allergies, itches, or skin irritations. Although this material can be a bit more expensive, it's worth investing in a quality bed set that will make bedtime that much more enjoyable.
Polyester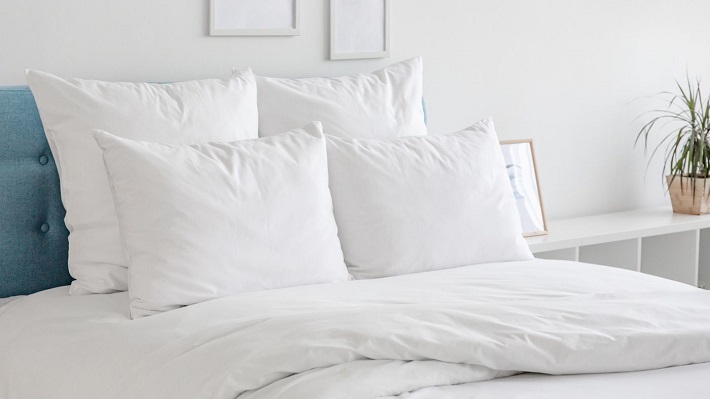 Unlike cotton, polyester is a synthetic fibre that doesn't absorb water, is less breathable, and can contribute to sweaty and uncomfortable nights. However, this material is extremely durable and wrinkle-resistant compared to natural materials like linen or cotton. Polyester is often blended together with cotton which creates a blend of yarns ( e.g 60% cotton, 40% polyester) that makes a perfect combination for those looking for affordability and easy maintenance.
Microfiber
Microfiber is a synthetic material that has a soft and slippery feel and is less prone to wrinkling and shrinkage in comparison to some natural materials, like cotton for instance. Microfiber is not a very good heat regulator as the fabric traps the heat more easily and is more suited for colder climates.
Flax 
Flax refers to one particular type of natural fibre plant used to make linen fabric. Linen is a term that is generalized as a whole to refer to bedsheets as a whole. However, its actual meaning is connected with one particular type of sheet made from the fibre of a flax plant. Compared with cotton, linen sheets have a different feel and don't have a smooth surface. Linen is a very breathable, eco-friendly material that promotes good airflow and is ideal for people with sensitive skin. It's the ideal fabric for summer as it is hardwearing, softens with every wash, and requires little maintenance.
Silk and Satin
The feeling of sleeping on shiny smooth satin will make you feel more relaxed. Both silk and satin are luxurious fabrics that will make an excellent bed sheet, transforming your bedroom into a sumptuous retreat. They are both affordable luxuries that will add a touch of elegance, romance, and relaxation to your bedroom. The satin sheet should be labelled as woven and contain a higher thread count for a better quality of the fabrics. Both materials are very breathable and provide better insulation which will keep you warm during the winter months and cooler in warmer months.
Construction
Construction plays a key role in how different sheets make you feel. There are five main constructions to keep in mind when shopping for a luxury bed sheet set.
• Microfiber – This material is quite densely woven and it might retain heat. Microfiber sheets are very durable and exceptionally comfortable;
• Flannel – A very soft and breathable material that will keep you warm in winter due to its soft texture and sturdiness;
• Satin – Smooth and shiny in appearance, satin is typically made from silk, polyester, or nylon;
• Jersey- The name of this fabric comes from the island of Jersey. Most people associate it with men's shirts but this stretchy material can be also used for making bedsheets.
• Percale – Most percale sheets have at least 200 thread counts. This is a very light and breathable material considered to be the best type of sheet for hot sleepers.
What Does Thread Count Mean?
Thread count is associated with the number of horizontal and vertical threads per square inch. Generally, this means the higher the thread count, the softer and more durable the fabric. Good quality sheets have usually around 200-800 thread counts, however, this number doesn't necessarily suggest that the sheet is of good quality. You should be wary of astronomical numbers in the 1000 range. This is usually a marketing ploy to inflate the threads of the count that may actually detract from its quality. For this reason. when choosing a thread count for your sheets, you should select a mid-range thread count around 300-450.
Check the Sheet Measurements
Measuring the exact size of your bed will help you choose the right dimensions. Be sure to take a look at charts that provide in-depth measurements for the different sizes of beds.