If you're someone like myself – a person who doesn't want to spend 15 minutes in the morning thinking about what they want to put on for the day, then you're probably looking to make your wardrobe as versatile as possible. And in the summer of 2019, the men polo shirt is still the ideal staple that you can wear virtually everywhere. If you're new to polo shirts, then you should first get familiar with how they're supposed to fit, what they should be made of and where to buy the best ones. I firmly believe that every man needs at least a few polo shirts in their wardrobe, as they can wear them as sporting attire, leisurewear, work attire, on casual events and everywhere in between, and they can be paired with most of your existing wardrobe items including Madras, seersuckers, shorts, and chinos.
That being said, the men polo shirt can be seen everywhere – on tennis courts, beaches, golf courses, and downtown stores, restaurants, and cafes. But as briefly aforementioned, finding the right polo shirt that has the right cut, is made of the right fabric, and is combined properly isn't something that should be taken lightly. For that reason, you should do your homework and learn all about its long and rich history so that you can look your best in the upcoming summer.
The polo shirt is believed to have been developed in the 20s by Rene Lacoste. However, there are some traces of the polo shirt that date back as far as the mid-1800s in India. According to historians, British Army soldiers watched a polo match by local Indians and took it upon themselves to open a polo club, where the sport grew rapidly in popularity around India. At that time, the apparel for the sport was long-sleeved shirts made of cotton that featured broad collars, but due to the discomfort and heat, they started attaching buttons to the shirt's collar in order to prevent it from flapping in their face while they were galloping their horses. When said British soldiers returned to Britain, the polo was introduced to Europe.
Not many years later, John E. Brooks, heir to the Brooks Brothers' attended a polo game in Britain and took interest in the button-down collars of the shirts that polo players were wearing and relayed the idea to his grandfather. Shortly after, they started making dress shirts that featured a button-down collar, which is nowadays known as the button-down dress shirt. And although the polo shirt evolved to represent a completely different type of shirt, Brooks Brothers market some of their shirts as Original Polo shirts to this day.
Today, the men polo shirt can be worn in virtually any environment. Many industries, including offices, country clubs, restaurants, etc. have adopted polo shirts as uniforms. You can see polo shirts everywhere around you and their trendiness doesn't seem to be going anywhere, any time soon. However, despite the broad use of the men polo shirt, there are a couple of dos and don'ts you need to follow to avoid looking sloppy.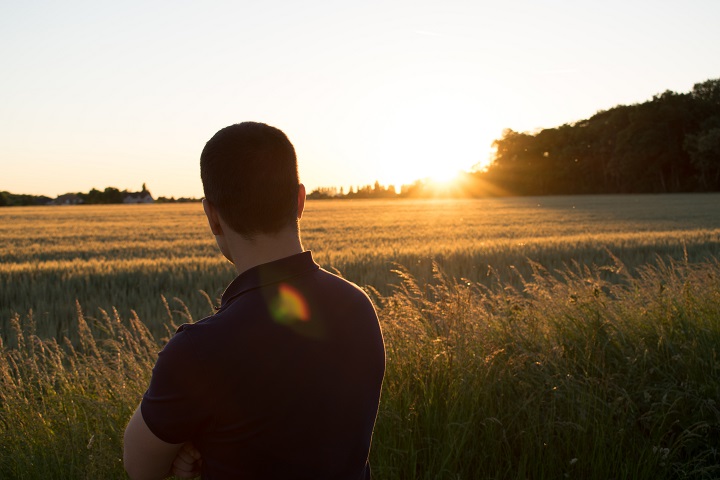 The first rule to wearing a polo shirt is to not treat it as layer clothing. A proper fit should skim without hugging your frame, so there shouldn't be room for putting another shirt on anyway. If you're wearing an undershirt, it's bound to crumple at the collar or slip from under your sleeve. However, a proper fit doesn't mean a tight fit. If you can't put your fingers between the bicep and the sleeves, find a bigger size. On the other hand, if there's a lot of slack, find a smaller size. Quality polo shirts are usually made from light materials like cotton. Speaking of sizes, the tail of the polo shirt shouldn't extend further down than half-way through your butt, otherwise, it will throw off your proportions, and it will crumple and show when tucked in.
The second rule to wearing polo shirts is to NOT pop the collar up. That trend is long gone and I doubt it will be coming back anytime soon. Popping your polo's collar is similar to wearing sunglasses at night, so you should just leave that sort of thing to the edgy teenagers and the bar crowd trying too hard to make an impression because they have no other redeeming qualities. Another trend that I can't wait to die it is the oversized logo. Avoid wearing a polo with a logo if you can, but since small visible logos have become the norm, sometimes you can't run from it. Some polo shirts have a logo that's tone-in-tone with the knit, while others have one that contrasts the shirt. Either way, you don't want an oversized logo on your polo, unless you're wearing it as part of your work uniform.
And lastly, don't be afraid to tuck the polo in if the situation calls for it. Of course, this would all depend on the occasion and outfit you put together, but there are instances when tucking in your polo would actually work in your favour. For instance, you don't want to tuck in your polo with Madras, but tucking it in with a pair of chinos or seersucker slacks can make you look better.